Powder Turns and Big City Lights
Two Seasoned Shredders Share Stories from their Sapporo Debut
Nick Riemer and David Muther can't contain their excitement as they share their Sapporo stories. From shredding light, fluffy powder to slurping steaming hot bowls of ramen, join them on a journey through some of their most thrilling moments.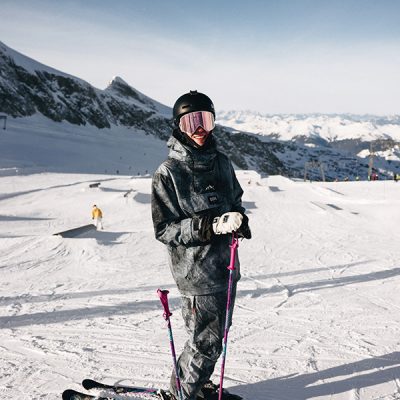 My name's Nick Riemer, an avid winter lover born and raised in Western Canada. I started Skiing when my parent's strapped skis onto my feet for the first time when I was 6 years old. I would go on to ski race for a few years before transitioning to freeskiing–I found jumps and rails to be more thrilling. This came to an end when I was 17 after a bad ski crash fractured my L5 vertebrae. Where I thought this injury was the end of my ski career, it was actually just the beginning.
I went on to make a full recovery and started filming and uploading my ski day experiences to YouTube. I started to build a community on the platform of likeminded people who had a passion for our sport. Thanks to this community I've been able to ski all over the world and collaborate on projects with companies like Red Bull and Dopesnow. To be able to share my fiery passion for skiing is a dream come true.
30 minutes' drive from the city and, boom, you're right in the middle of the mountains.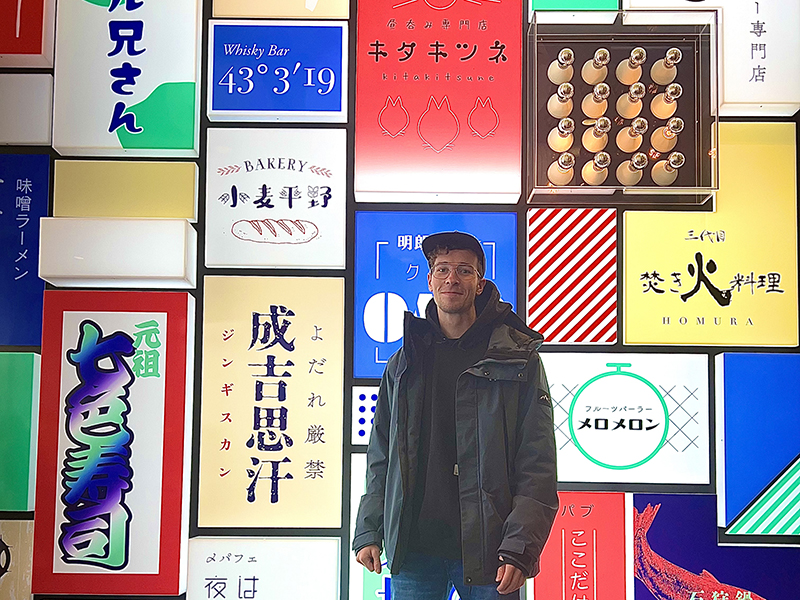 Sapporo has a huge metropolitan area with every type of city amenity you could imagine and abundant nature just a short trip from your front door. The scenery is second to none, with soft pillows of snow, majestic mountain tops and all these cool trees that cover the landscape. In most ski resorts, I don't have much to do after coming off the mountain but wait for the next day. In Sapporo, I was almost as excited to explore the city as I was to go skiing.
It's like skiing on a mattress or a marshmallow man.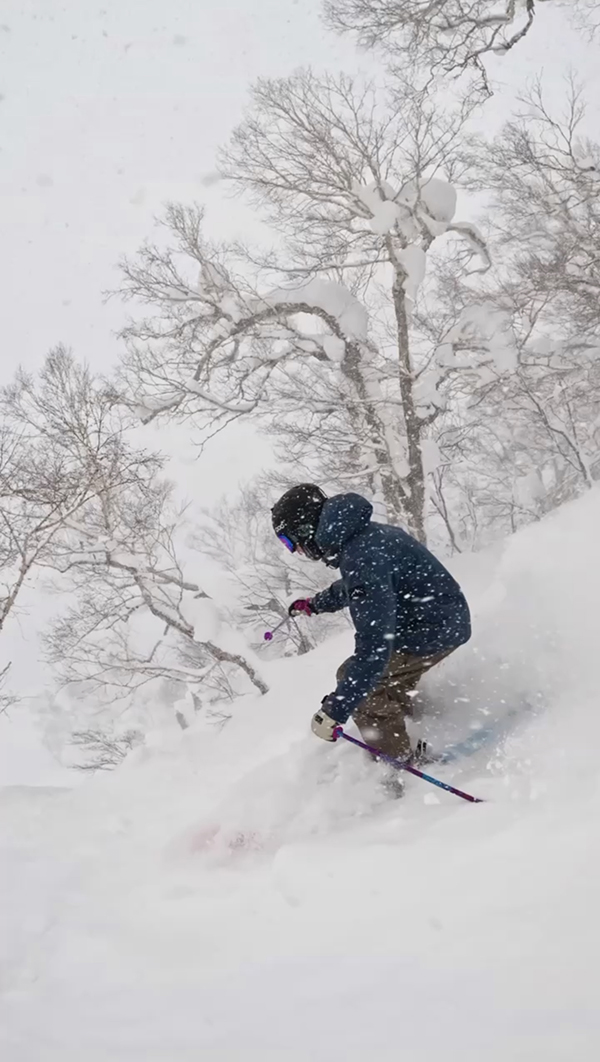 I had some of the best ski laps of my life at Teine Ski Resort. The trails have perfect steepness, and the snow was amazing―not only is there so much of it, but it's so soft. On a clear day, you get expansive ocean and city views. Coming here, seeing the famous Japow for yourself and realizing it lives up to the hype is like skiing in a dreamscape.
They want you to enjoy what they've been enjoying for a long time.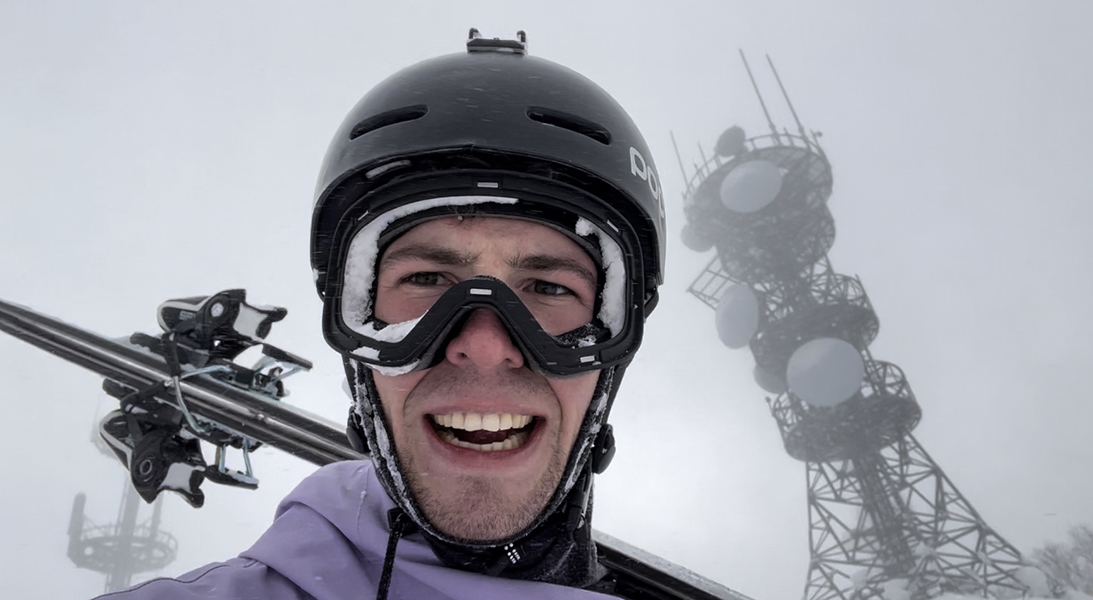 Sapporo locals can shred, and it was a thrill to ski with them. Everyone was kind and genuine, showing us their favorite spots and striking up conversation on the lifts. I found that we are all very similar, bonding over a mutual love for sport and nature that transcends differences in language and culture. Knowing that there is a strong ski community here makes me want to keep coming back.
Not only do you have the fantastic ski resorts, but you have the breweries and really cool coffee houses afterwards.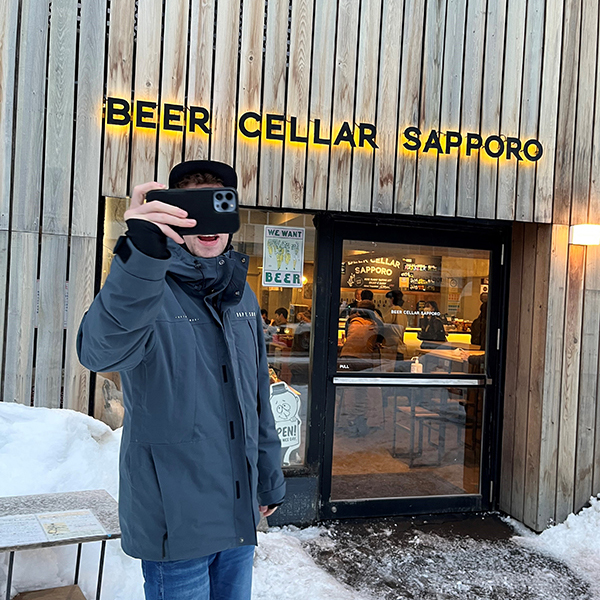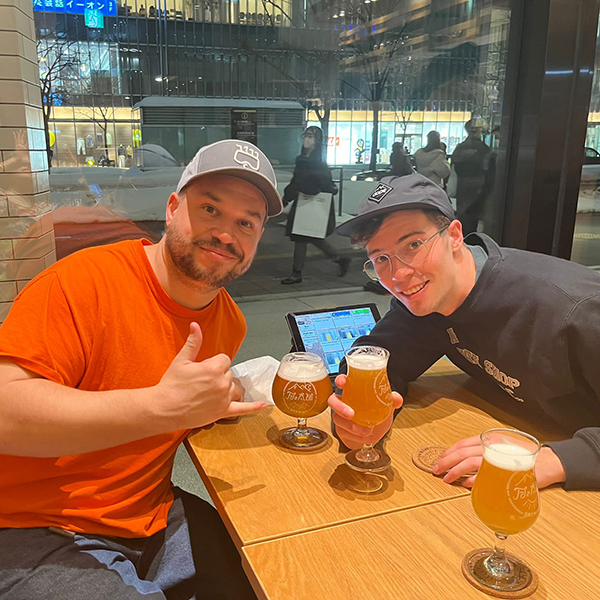 Sapporo's coffee houses welcome you with subdued lighting and the earthy aroma of coffee grounds. They're the perfect spot to recharge after a long day on the mountain. You can select from a huge variety of beans, and the skilled coffee master will make your brew of choice just the way you like it. I was also blown away by the thriving microbrewery scene. I had heard of Sapporo Classic but didn't know that so many exceptional craft beers are being created here. My hometown of Alberta is beer central, but Sapporo certainly gives it a run for its money.
I love using chopsticks, it's more immersive, letting you take your time with dinner.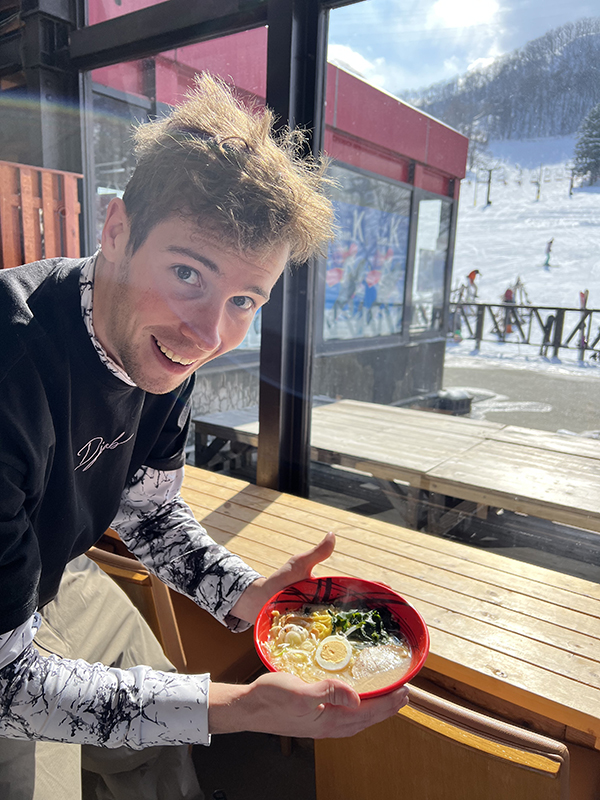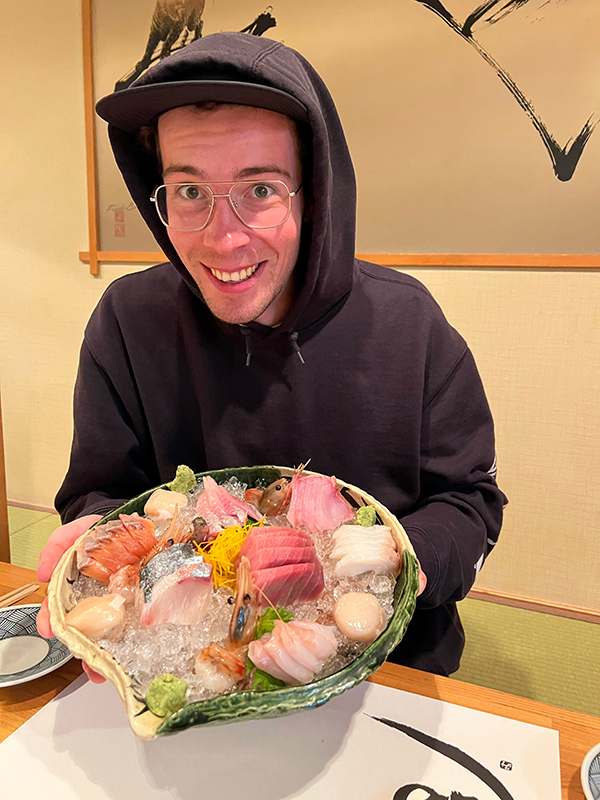 Rather than wolfing down your food and being done with it, I found that every part of dining in Sapporo makes it an experience to be savored, from the unique atmosphere of each restaurant to every tasty mouthful of the myriad local favorites on offer. Steaming-hot bowls of ramen were my go-to after a long, cold day on the mountain. I love how all the flavors come together―an egg is added for extra texture, onions give it some spice, and slices of pork melt in your mouth. Combined with noodles cooked to perfection and a rich, salty miso broth, you can't beat it.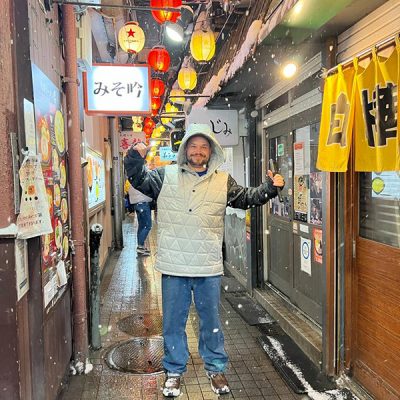 My name's Dave, I'm from a town of 200 people in Vermont. I've taught snowboarding for 17 years, made videos for 8 years. I enjoy all board sports and traveling. I started a small company with my friend called "Shred Happy". We have a mission to spread positivity among shred communities around the world!
I feel like I'm ready to come back even though I haven't left yet.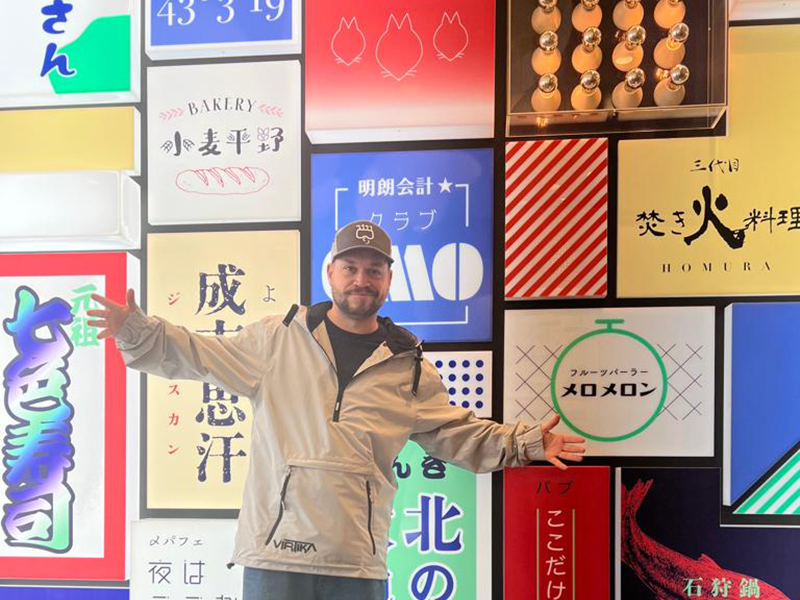 Sapporo has blown me away! Everything I could ever want is right here in the palm of my hand. Having the city sights, mouthwatering food, and world-class ski resorts just minutes away is something you don't get anywhere else. When I go snowboarding, I'm usually confined to a ski town or lodge, which translates to limited options at jacked-up prices. That's not an issue in Sapporo, here you really are spoilt for choice.
This is the mecca of pow.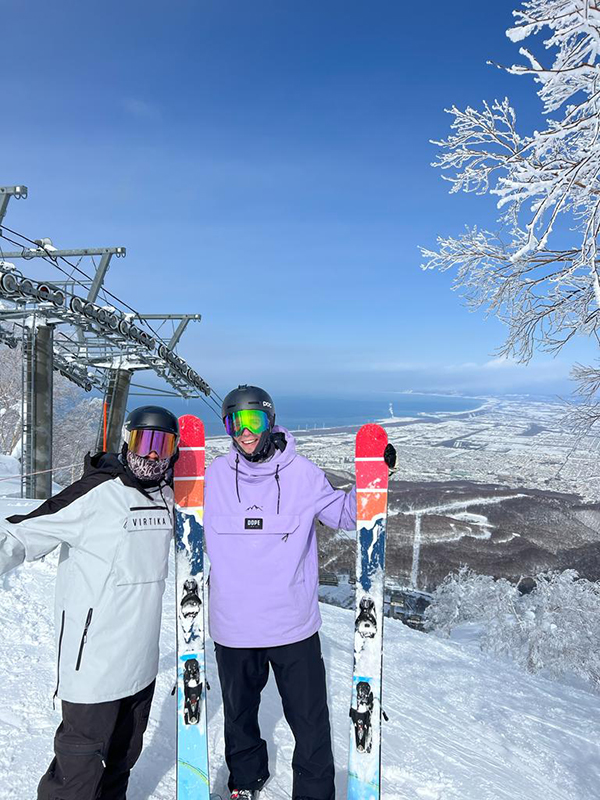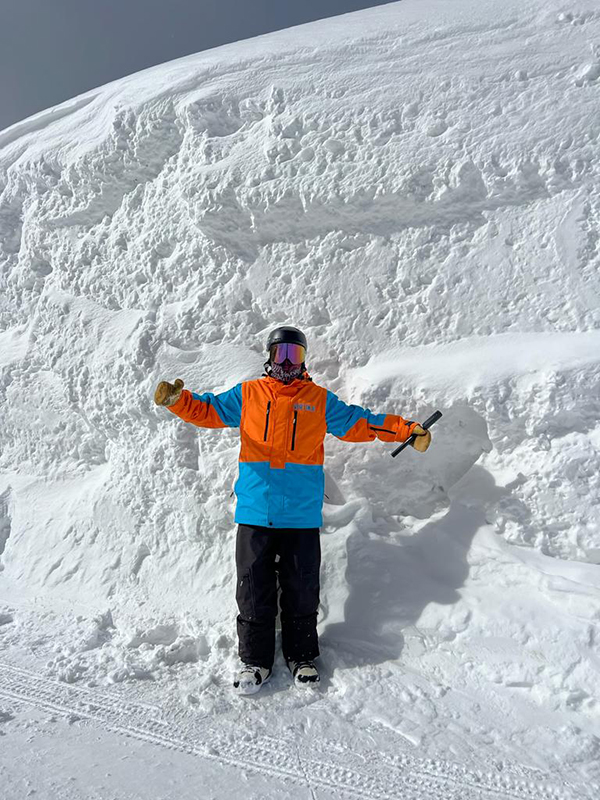 It seems like the pow tap is permanently switched on at Sapporo Teine and Sapporo Kokusai Ski Resort. It's unlike anything I've experienced before. It was snowing so heavily that I was treated to non-stop refills and freshies on every run. You carve your line, take the lift to the top, and the trail has reset itself, waiting for you to do it all over again. These are the ultimate conditions for any skier or snowboarder.
I've never been to a halfpipe that wasn't super icy, but this had the perfect level of softness.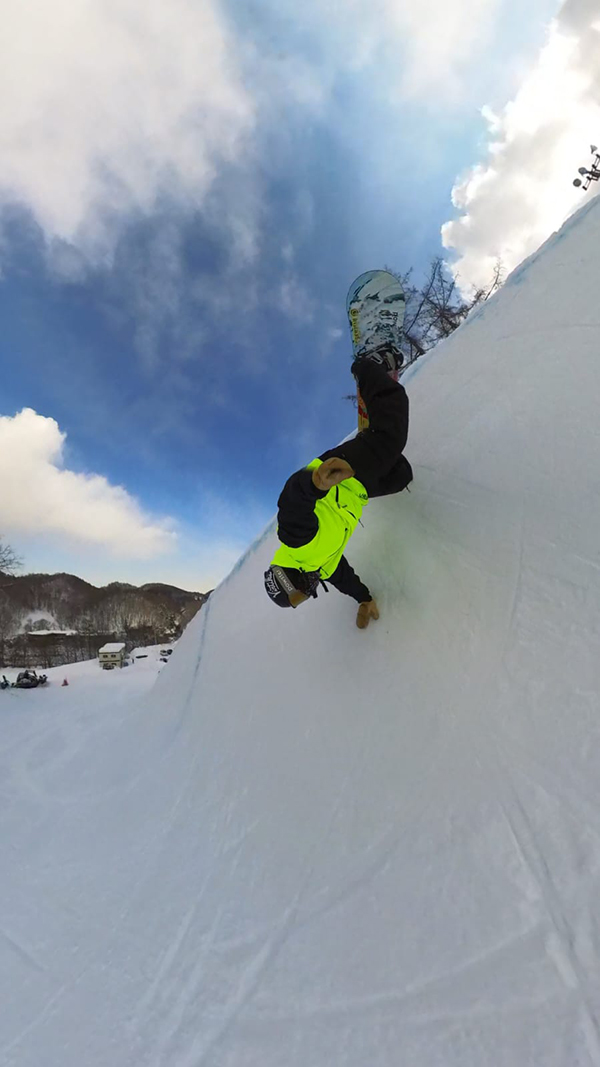 The superpipe at Bankei Ski Resort was unlike any I'd dropped into before. Although it was a cold day, the walls were soft, the transitions were perfect, and it was huge. There was a school nearby, and the local kids who poured out with their skis and boards at the sound of the bell were ripping at levels above anything I'd ever seen. To have a top-class halfpipe practically in your school's backyard is the dream—I wish I had that when I was a kid.
The beauty of the place was really breathtaking for me, with the steamy hot springs and the snow just sitting on everything.
Arriving at the picturesque hot spring town of Jozankei Onsen, nestled among the frosty mountains, I felt revitalized by the surrounding nature, we even saw some deer coming down from the hills to have a snack. We took a stroll along the river that runs through the middle of town and I was interested to see how the natural hot springs are fed into the hotels. Afterwards, I soaked in my own hot spring in the privacy of my room.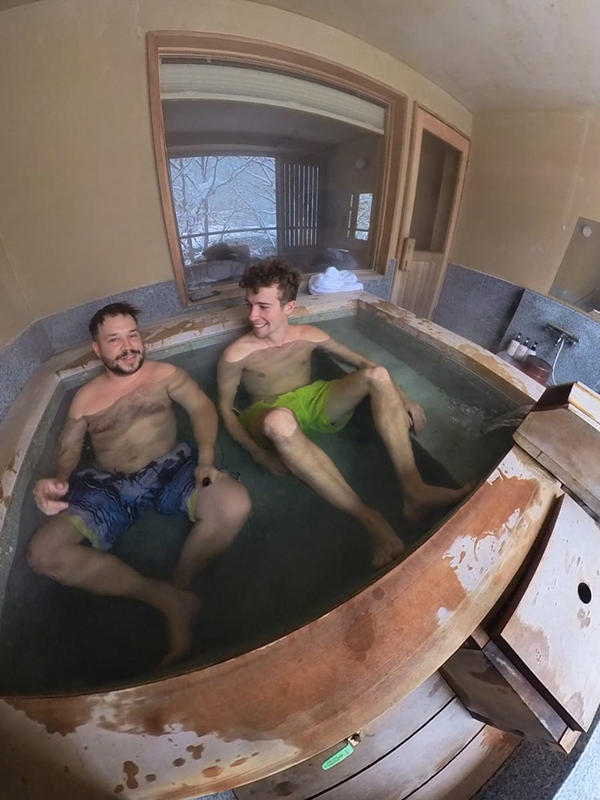 The food was one of the highlights of the entire trip.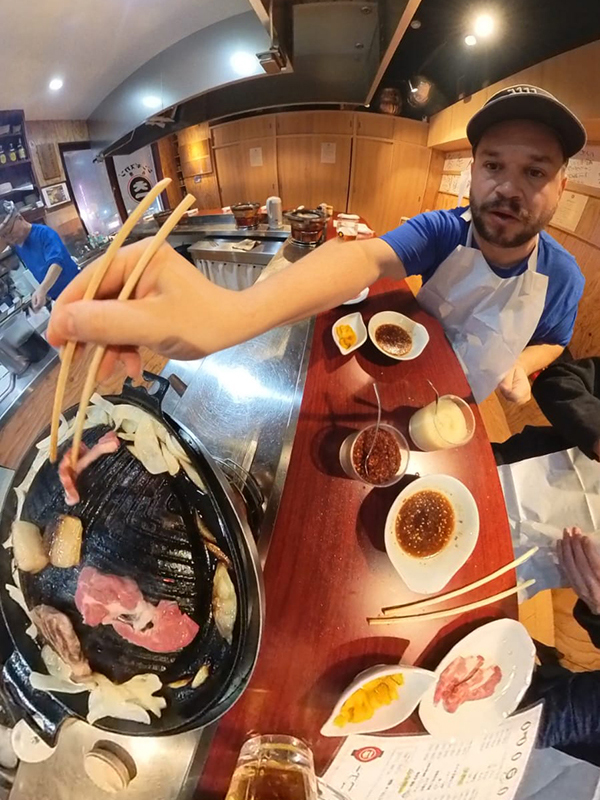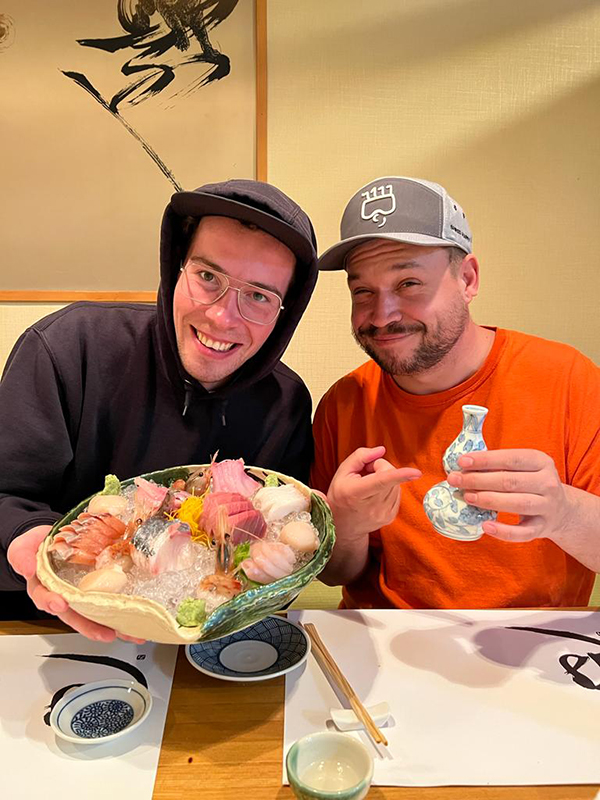 There are so many delicious options in easy reach. I enjoyed piping-hot bowls of ramen at the ski lodges and rich, warming soup curry. I even ventured out of my comfort zone to try some different kinds of sushi―definitely a good decision! If I had to pick my favorite, I would go with the Genghis Kan lamb BBQ. Each slice of meat melts in your mouth and is complimented perfectly by the savory sauces. It was also interesting to see that they utilize the whole animal, even using the fat to grease up the grill.