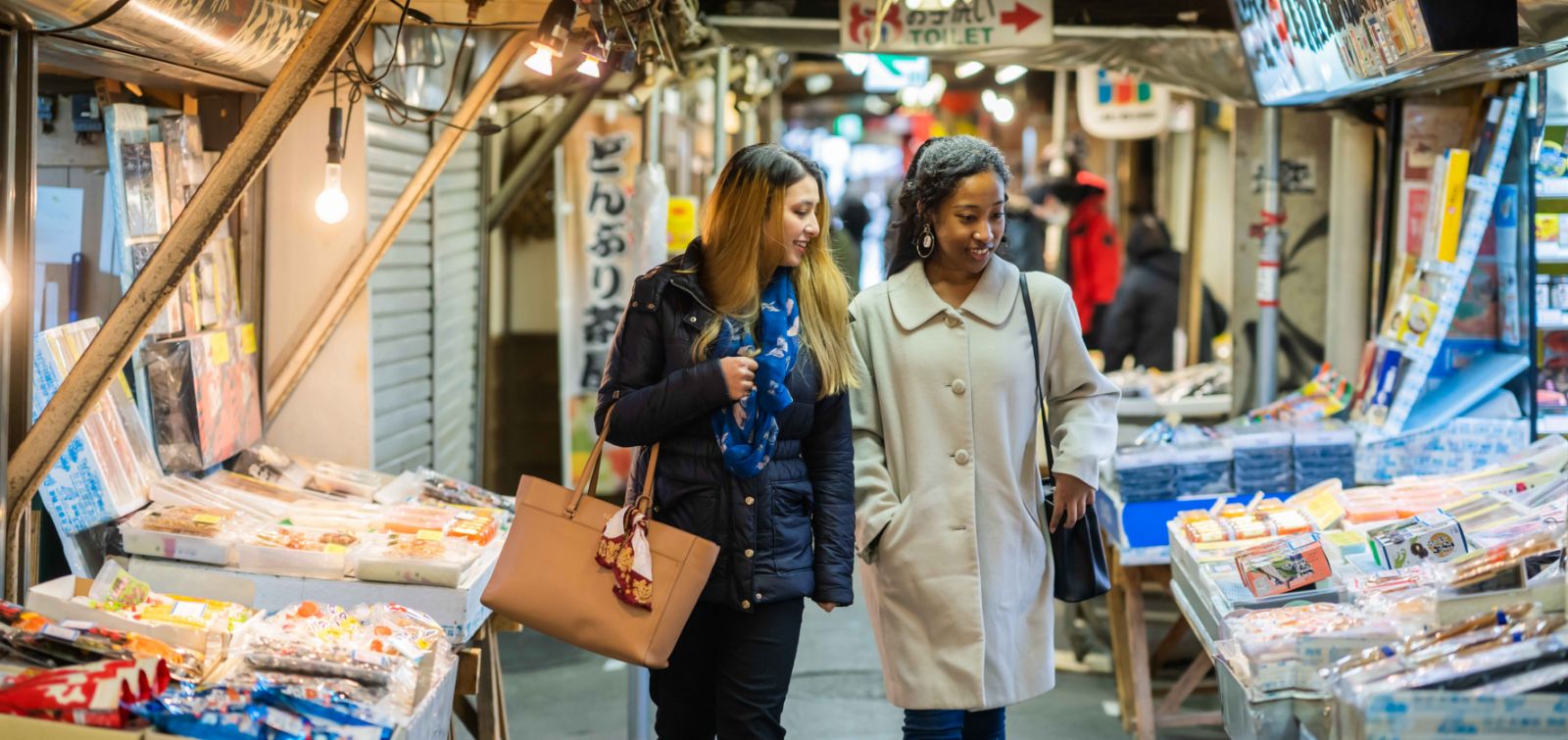 TRAVEL TO
SAPPORO
Flying is the most convenient way to get to Sapporo. New Chitose Airport, the city's main airport, is connected to Japan's major transport hubs and also offers direct international flights. Sapporo lies at the heart of Hokkaido and provides easy access to other major destinations across the island. Abundant transport ranging from railways to buses, subway lines, trams, and taxis gives you the freedom to plan your trip your way.
Getting to Sapporo
By Plane (International flights)
New Chitose Airport is served by airlines from many countries and regions. See the table below for details.
Note: Some services to New Chitose Airport are not available due to COVID-19.
From China
Beijing, Shanghai, Tianjin, Hangzhou, Nanjing, Dalian, Wuxi, Qingdao, Xiamen, Fuzhou, Chengdu
For the latest information on international flights to New Chitose Airport, see this website.
https://www.new-chitose-airport.jp/en/airport/
By Plane (Domestic Flights)
There are direct flights from several airports in Japan to New Chitose Airport. In addition to those listed below, direct flights from several other airports are also available.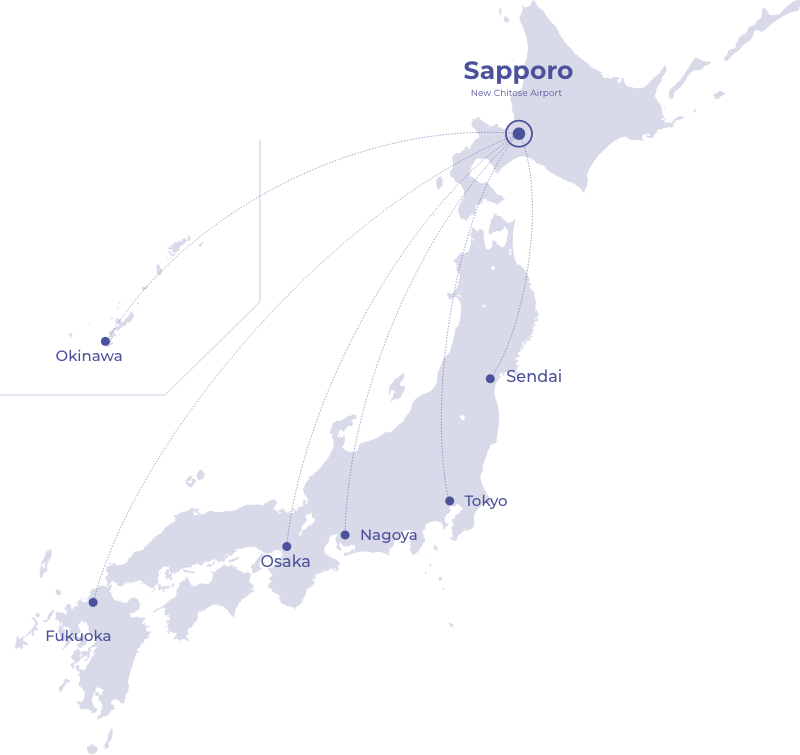 From Tokyo
from Haneda

Tokyo International Airport (Haneda)

1 hr. 40 min.

from Narita

Narita International Airport

1 hr. 50 min.
From Osaka
from Kansai

Kansai International Airport

2 hr.

from Itami

Osaka International Airport (Itami)

2 hr.
From Sendai
Sendai International Airport

1 hr. 10 min.
From Nagoya
Chubu Centrair International Airport

1 hr. 50 min.
From Fukuoka
Fukuoka Airport

2 hr. 30 min.
Getting Around Hokkaido From Sapporo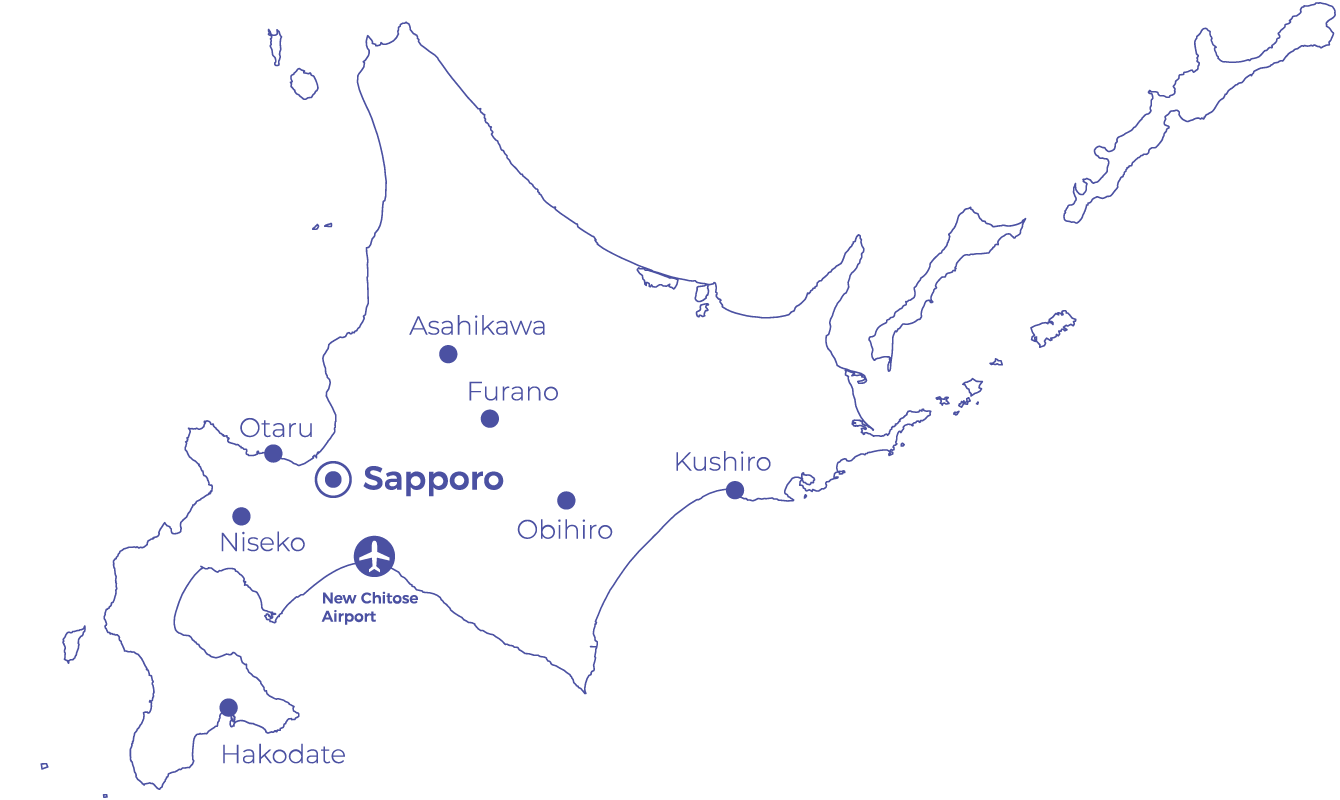 To New Chitose Airport
Approx. 35min.
Approx. 70min.
To Otaru
35min. (Rapid train)
45min.
To Asahikawa
1hr.25min. (Ltd.Exp.)
2hr.
To Obihiro
2hr.30min. (Ltd.Exp.)
3hr.
To Kushiro
4hr.(Ltd.Exp.)
4hr.30min.
Sapporo is Hokkaido's travel hub,, with many other amazing destinations on the island easily accessible from it. Make Sapporo your base for exploring any number of the other beautiful places Hokkaido has to offer by bus and train. There are numerous direct flights from overseas to New Chitose Airport, which is also connected to every major city in Japan, making going to and from Sapporo comfortable and convenient.