Why Sapporo is an unmissable destination for your next trip to Japan.
You may have heard of Sapporo for its famous beer, it's world-famous Snow Festival, or perhaps its Olympic legacy, but there is so much more to enjoy in the northern capital of Japan. We invited three travel experts to experience the magic of the city for themselves this winter, and report back to us with some travel inspiration and tips for your stay in Sapporo.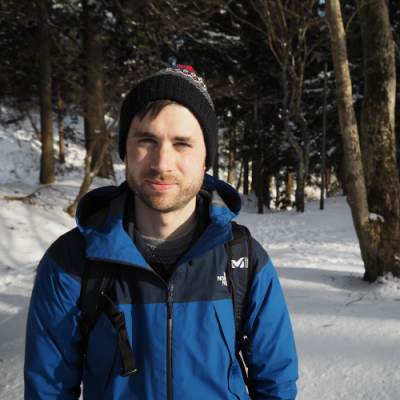 Travel and Outdoor Writer Tom Fay
Tom Fay is British Travel and Outdoors writer based in Kyoto, Japan. He has been living in Japan for 15 years. This is his fifth time to Sapporo, and he has been to Hokkaido over ten times. He is currently writing a guidebook about Hokkaido. When he goes travelling, he makes sure to fit in visits to nature spots and do outdoorsy activities.
"Sapporo has everything that would blow your mind about Japan in one place"
Sapporo has everything that would blow your mind about Japan all in one place. It combines the big city life and attractions of larger cities, with access to a world of nature – mountains, skiing, the rest of Hokkaido – right on your doorstep! I could just take the subway, go to the mountains, and have a nice afternoon climbing.
Of course, winter transforms the city into a complete winter wonderland. I can't think of any big cities in the world that are as snowy as Sapporo. People don't realize how snowy it is. I have been all around Hokkaido, and Sapporo is as snowy, if not snowier than most places in the northern island. Whenever I see snow, I get so excited. I would wake up happy and go to bed happy, knowing I could go anywhere in the city and stomp in the snow – just like a big kid!
However, despite the large amount of snowfall on the streets, it is really cool how life just goes on as normal. If that was London, everything would grind to an absolute halt, and no-one would get anything done. But in Sapporo, even with the streets covered in ice, everyone is just walking around, unbothered. Also, if you don't want to slip and slide on the streets above, you can just head to the underground town and access most spots in the city while staying nice and warm.
As an adventurer and outdoor explorer, the convenience of being able to get out into the mountains right from the edge of the city makes it truly a unique Japan destination – I am even considering moving here one day!
-If I was recommending Sapporo to a friend, I would tell them to do….
Sapporo TV Tower – Going up to the top of the iconic TV tower, is a great way to start your trip. Located right in the center of town, you can see the whole layout of Sapporo right below you.
Walking in the city – Right next to bustling modern Japanese city thoroughfares, Sapporo is a filled with lots of retro streets and interesting nooks and crannies, perhaps even more than Tokyo or Osaka. I recommend walking around and exploring this interesting fusion of modern and kitsch.
Sapporo Beer Garden – For those of you that love your beer, the Sapporo Beer Garden is a must. Nothing beats going into one of the beer halls, drinking a pint, and eating delicious Genghis Khan, a famous local lamb dish, in this great buzzing, smoky and smelly atmosphere.
Mt Moiwa – If you take the ropeway to the top of the mountain, you can see the whole layout of the city on one side, and just rows and rows of mountains out towards Niseko on the other side. I would recommend it in any season, and both in the daytime and nighttime. Nighttime is especially beautiful, with the city lit up below. If you are feeling adventurous, you can hike up the mountain instead of taking the ropeway, and from there head off into the hills if you have the right gear.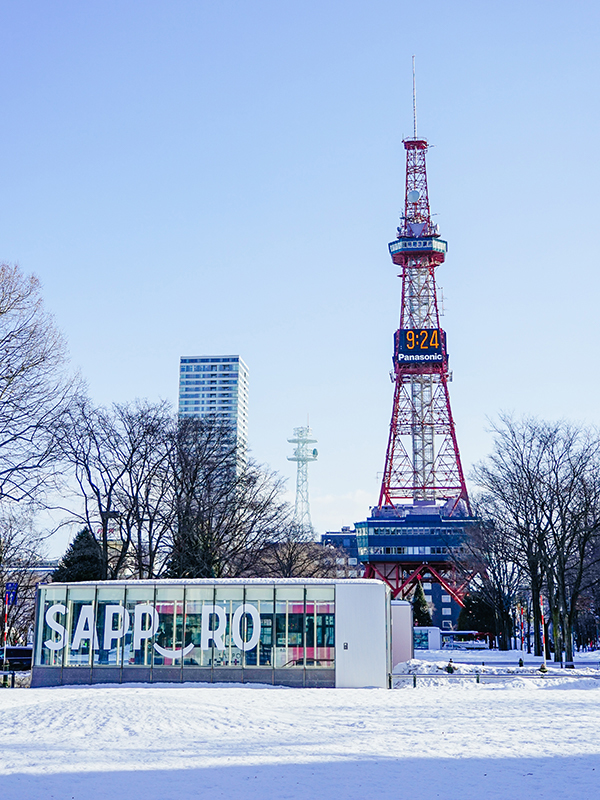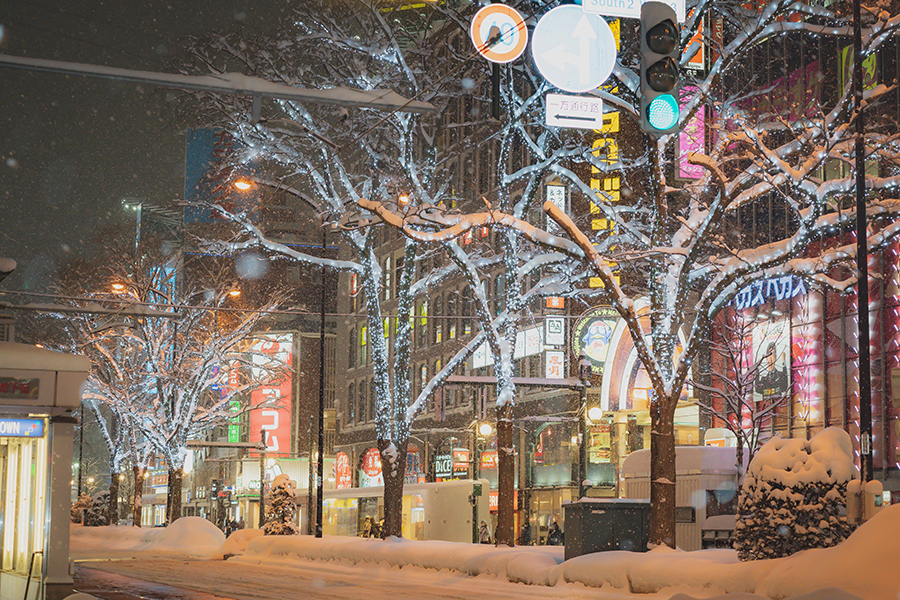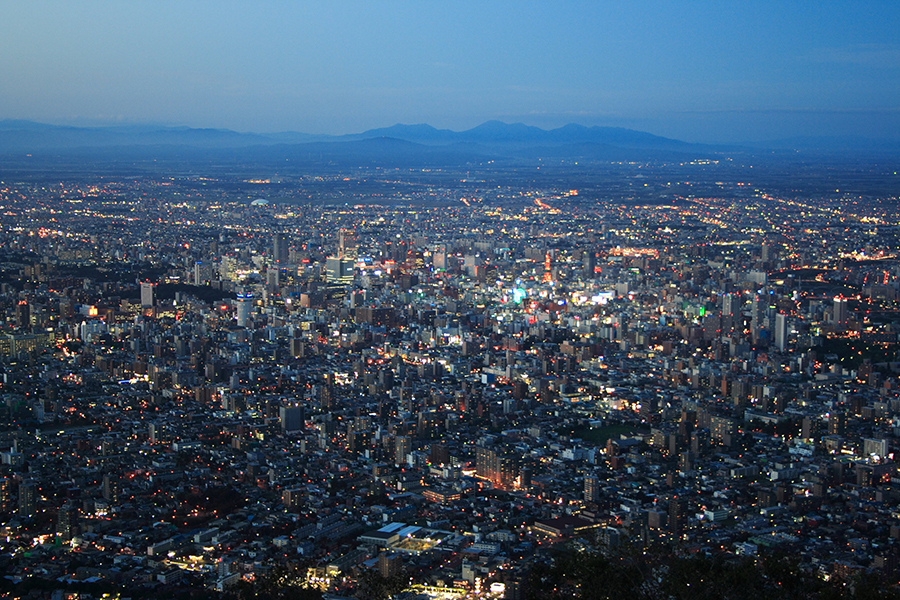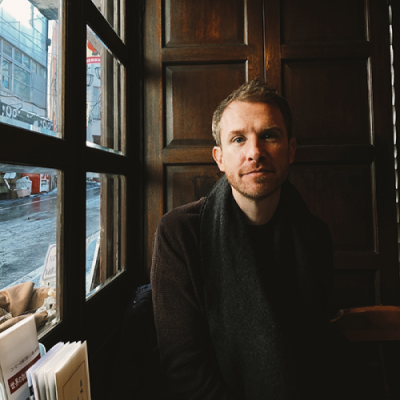 Photographer / Culture and Travel Writer Lance Henderson
Lance Henderson is an American Photographer and Culture/Travel Writer who has been living in Japan since he was 19. This was his first trip to Sapporo and Hokkaido. When he travels to a new place, he likes to wander, take photos, and meet new people.
"A city with a quirky, unique and niche vibe"
Sapporo is a modern Japanese city, mixed in with a historical, quirky vibe. I am a bit of a train nerd and so it was amazing to see traditional streetcars run along the main streets. The alleys of the downtown area of Susukino are filled with unique bars and restaurants reminiscent of Showa period (middle 20th century) Japan. Very City Pop! If you go down the back streets, you can find lots of interesting independent shops, which is something that is disappearing in other areas of Japan.
During our time in the city, the fluffy snow did not stop falling the entire time! There was so much snow that it would be piled up on tops of roofs over one meter high, I have never seen anything like that anywhere else in the world. And I am from Michigan! A Finnish friend once told me that "we lean into winter", and it fully seems that people in Hokkaido have the same attitude: it is going to be winter, so shut up, prepare and enjoy it.
-Is there anything people should know before coming?
I have lived half my life in Japan but had never been to Hokkaido as I thought you would not be able to get around without a car. But I was really surprised how robust the infrastructure was – the public transport is fully connected. You really can just come with JR train pass, and you are good to explore most of Hokkaido.
-If I was recommending Sapporo to a friend, I would tell them to do ….
Sapporo Food – Go eat eat eat! With specialties like Miso Ramen, Genghis Khan grilled lamb, soup curry and of course sushi – the food in Sapporo is seriously good and special, and it is so cheap compared to other countries!
Hokkaido Shrine – You walk through the picturesque, snowy woods of Maruyama, located right in the middle of city, with kids playing in the snow with sledges, before reaching this beautiful, serene temple. Visually unbeatable! When we were visiting, we randomly walked into this huge, beautiful movie scene: there was a Shinto wedding taking place at the shrine, and the sun came out, there were blue skies and snow falling at the same time. I got to witness one of the most beautiful wedding scenes I've ever seen in my life. If I had never been to Japan, my head would have exploded!
Interact with the Locals – People in Sapporo and Hokkaido in general are friendly, confident and many are open to talking with travelers. In Susukino, the downtownSapporo area, there are lots of small watering holes where you can get chatting with the locals. A more hidden version of Tokyo's famous Golden Gai.
Sapporo Pirka Kotan (A museum for Ainu history and culture) – Everyone should go! We had a tour from an Ainu guide – It was so interesting, but I wished we could have hung out with him for beers afterwards to learn even more. As for the exhibits, I found the design of the Ainu clothes on display particularly beautiful.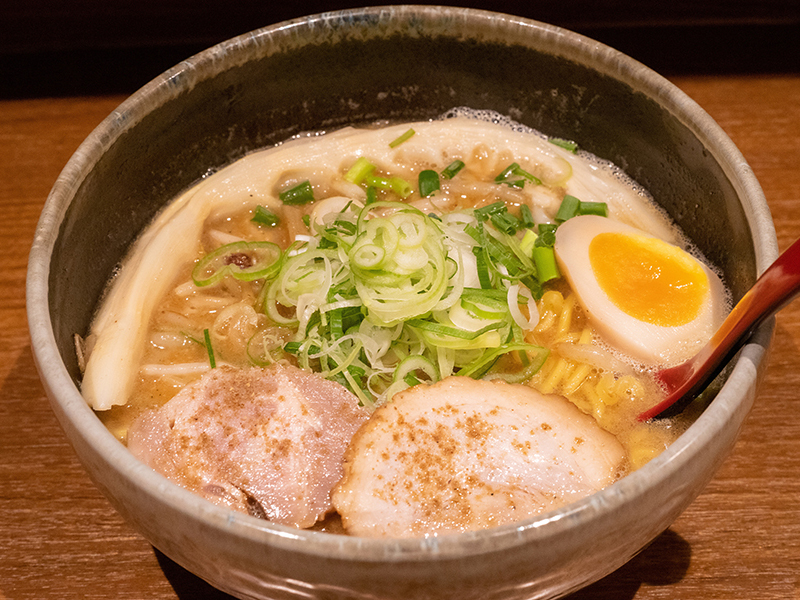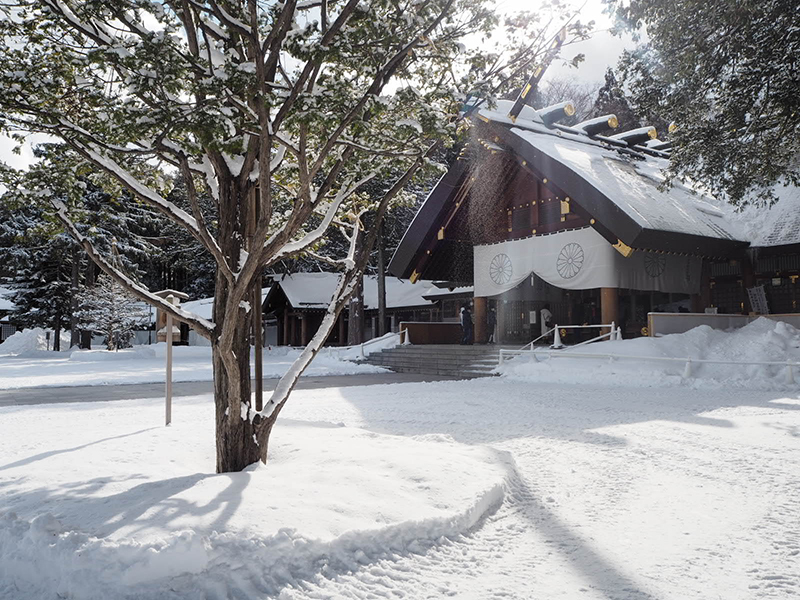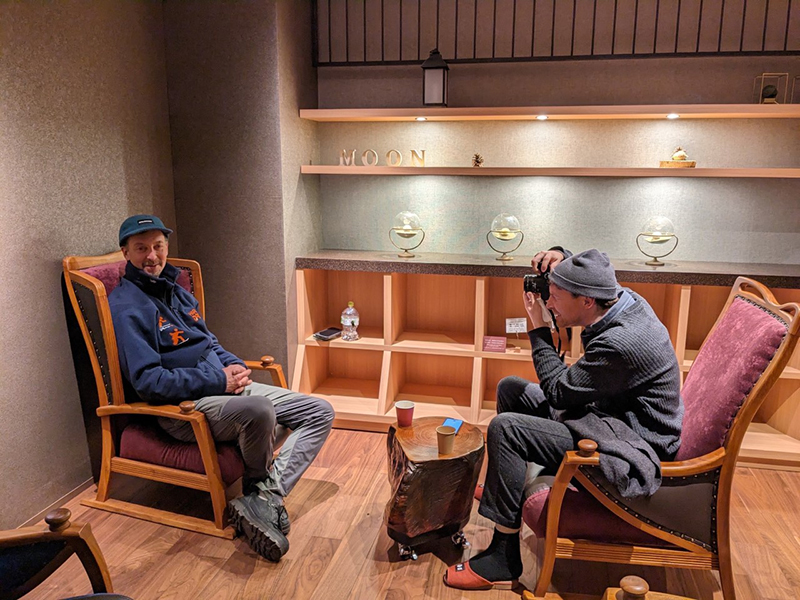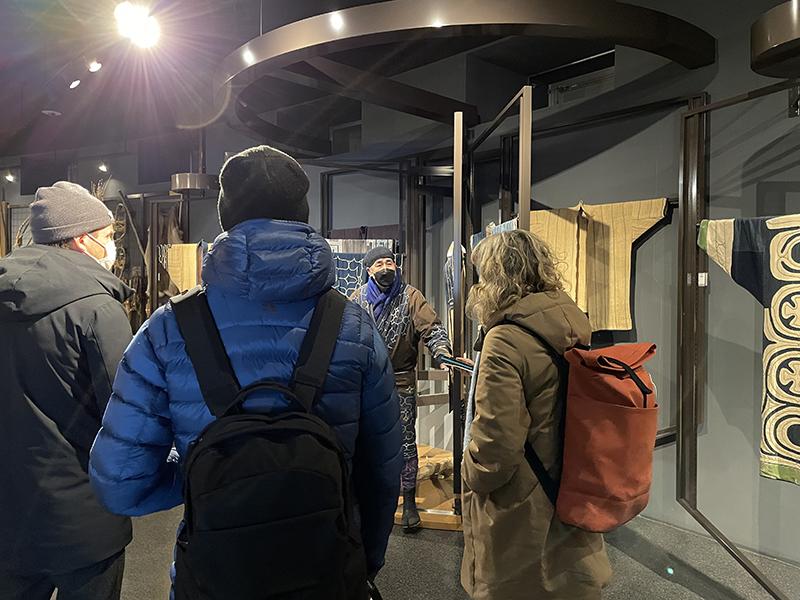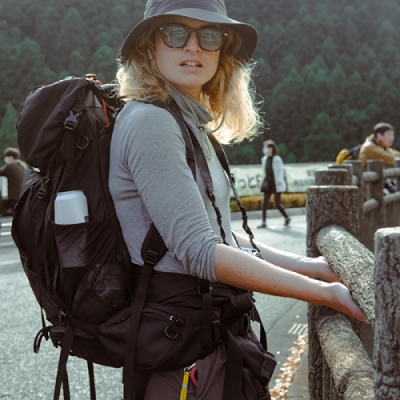 Travel Writer / Tourism Expert Lucy Dayman
Lucy Dayman is an Australian travel writer and tourism expert who has been based in Japan for the last six and half years. She has been to Hokkaido numerous times – 6 times just in the last year! She likes to discover new places through slow exploration- spending a lot of time in one place building connections and getting to know the place through the people she meets.
"Sapporo is the perfect gateway for everything Hokkaido has to offer"
As someone who has visited Hokkaido many times, I can say that it is the best place to experience all four seasons in Japan. The autumn leaf colors here are crazy – I don't know if it is possible, by they are weirdly brighter than anywhere else. In summer, the foliage is lush, beautiful, and not too humid (unlike Tokyo) – honestly, I think making a mass exodus from Tokyo to Sapporo in the summer months is a good idea. And in the winter, of course you have the snow, which is very novel.
Being the main transportation hub in Hokkaido, Sapporo is the perfect gateway to everything the rest of this beautiful island has to offer. You can easily get on the train and take quick day trips to the nearby Onsen towns like Noboribetsu, the seaside town of Otaru or even dive into nature at the nearby Shikotsu-Toya National Park. You could definitely plan a Japan holiday where you spend over a week exploring Hokkaido – there is just so much diversity!
Sapporo itself has a wonderful balance of so many different aspects of Japan that other cities just don't have. Coming from Tokyo, a place that can be kind of overwhelming for tourists, I really like how easy to navigate and accessible Sapporo is a city. My favorite part is probably the incredible food diversity. As it surrounded by oceans, of course the seafood is fantastic, but you also have the Sapporo take on the classic Japanese ramen dish, soup curry, and the delicious, sweet treats. After my trips to Sapporo, I think I have a now have a soft cream addiction (The Kinotoya soft cream is my favorite by far).
-If I was recommending Sapporo to a friend, I would tell them to….
Skiing at Mt Moiwa- With the Mt Moiwa ski resort so close to the city, you have incredible panoramic views of Sapporo as you are skiing down. I recommend going there at sunset, or in the evening, as the whole city looks magical when it is lit up.
Historical Village of Hokkaido (Kaitaku no mura) – I don't know if it is super well promoted but this open-air museum made up of real Hokkaido houses and buildings from the late 19th to early 20th century is a great way to have a hands-on experience of the island's recent history. It reminded me of Sovereign Hill in Australia.
Izakaya experience – I would also recommend a stop at an Izakaya, a traditional Japanese pub experience, where you can try lots of different types of food alongside some classic Japanese alcohol. When I do leave Japan, that is something I am going to miss, as there is nothing quite as cozy entertaining and organic as an Izakaya. There are so many good ones in Sapporo to try!